Self Storage Prices and Sizes
From only R326 per month
HURRY!!!
AVAILABLE UNITS ARE LIMITED
CALL US FOR MORE SPECIALS!!!
Terms and conditions apply
Gregory self storage in Gauteng is a storage facility that has something for every type of user. A variety of sizes match with a range of prices to suit all pockets, depending on your specific requirements. Let's take a look at the options and give you an idea of what they may be used for.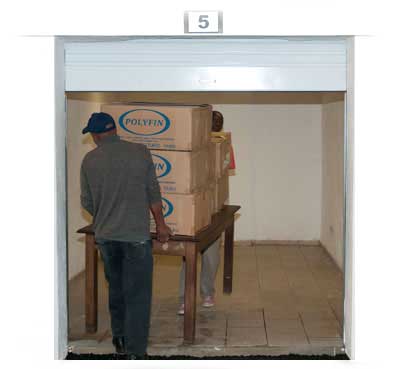 ACCESS TO THE UNITS:
08H00 to 17H00 - 7 days a week
ALL PRICES ARE QUOTED PER MONTH AND INCL VAT UNLESS OTHERWISE STATED.

The price of a storage unit depends on the size of the unit. We have a wide variety of sizes available to suit all budgets and requirements. Please call us so that we can find just the right storage unit for you.
You can get units from as small as 4m2, to units big enough to fit a boat. You will probably end up needing a smaller unit than you may think. When looking at your items in your home or business, they seem to take up a lot of space. But if packed efficiently, they will actually take up much less space.
If you are unsure about what type and size of storage unit you need, have a look at the guide on this page, or speak to one of our managers. They will be able to guide on you on choosing the best units for your needs, so you get the best value for your money.
Our main storage facility is in Johannesburg, on the East Rand. Please call us with your requirements and we will assist you as best we can.
There are several 'Medium size' unit options that would enable the storage of the same kind of effects, or maybe you want to take ownership of your own garage again and store tyres and tools?
Larger units are also available for those who may want to store a small car, boat or caravan or maybe you're a contractor wanting to store parts and building or plumbing equipment or general items of stock.
Even an extra-large self storage unit of 33m2 for those who would like to store a car and all the household goods or equipment, is available and there are a few variations of sizes and prices so please visit our Get a quote now or contact us pages to be absolutely sure that we have what you need.
The height inside the storage units vary from 2.7m to a maximum of 5.4m (for specialised use such as caravans, boats and trailers).
Whatever the size of unit you decide to take, make sure your goods are packed safely and securely in order to make your storage experience a positive one, and that you do not suffer any losses.
Forms:
This page was last updated on 20 October 2020